Week Five Wedding Dress: Jasmine
I apologize for being so late with the wedding posts...I've been meaning to post but I've just been busy like mad! So again, I apologize.
This week's Disney Fairy Tale Wedding by the incredible designer
Alfred Angelo
is Princess Jasmine from one of my favorite Disney movies of all time,
Aladdin
!
Collection One
Alfred Angelo's "Jasmine"
Designer Description:
"
This exotic gown pays tribute to Jasmine's adventurous and self-assured style. Featuring flowing, soft shimmer satin and a micro-ruched bodice, the bejeweled neckline and halter strap with encrusted pearls, rhinestones and crystal beading add a touch of wanderlust."
Style 202
My Opinion: I find this a quite simple wedding gown in comparison to the previous Disney wedding gowns designed by Alfred Angelo. I personally appreciate the lack of frilly ruffles (if I was to choose a gown for my own wedding) because sometimes too much frilly can be...just too much. I feel like this could also almost be pulled off as a prom dress of some sort, even though white usually creates a feel for a wedding dress.
Collection Two
Designer Description:
"
Layers of style capture Jasmine's adventurous and bohemian spirit. This multi-tiered soft shimmer organza gown floats in lovely layers and tiered ruffles and is topped with a dazzling jewel encrusted bodice – perfect for that magic carpet ride."
Style 215
My Opinion: This gown is gorgeous, and much more intricate and elaborate than the previous Jasmine dress. My favorite part is the bodice and silver in the breast area. I'm not too much of a fan of the ruffles, but it doesn't take away the fact that it's still a beautiful and breathtaking dress.
Disney Maiden Bridesmaid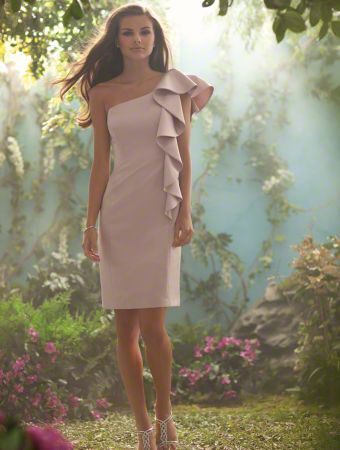 Style 508
Flower Girl
Style 705
My favorite dress would have to be the first collection. What's yours?